GETTING STARTED WITH GP ONLINE SERVICES
November 26, 2020 | Speak to a GP Online, Talk to a GP Online, Digital, Healthcare, GP Online Services, Doctor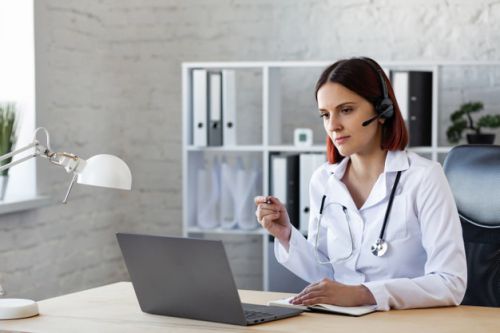 The Covid-19 pandemic has changed the world in an unprecedented way. The introduction of lockdown measures and social distancing has transformed the way we work and live, and even how we seek medical advice. Heading off to the doctors used to be fairly simple, but due to to the new regulations, many people are choosing to access GP online services.
More people than ever before are opting to speak to a GP online, rather than booking a traditional appointment. This is partly due to the pandemic situation, but also for other reasons. Waiting times for appointments can be lengthy, and consultations often feel rushed and impersonal. If you've been looking for an alternative to your usual medical practitioner, GP online services could be the answer.
How do I speak to a GP online?
Opting to talk to a GP online is incredibly simple. Here at Hapi, we offer a flexible approach; you can either book online or via our handy app. Simply head to the booking page, select the service you're looking for, and then choose your date, time and appointment length. We'll then ask you a couple of questions about your visit, then confirm your appointment details. It couldn't be easier!
What kinds of services are included?
At Hapi, we partner with a range of highly experienced healthcare professionals who provide a variety of services. Whether you're looking for advice on a specific medical issue, diet and nutrition or mental health, we can help. We can offer you access to:
Doctors and GPs
Practice nurses
Podiatrists
Physiotherapists
Counsellors
Dieticians
Occupational Therapists
Speech and language therapists
Pharmacists
What happens when I talk to a GP online?
A digital medical appointment is very much like a face-to-face one - but with added convenience and comfort! The doctor or medical practitioner will discuss your symptoms with you, and take a look at any areas of concern. If you need medication, they will issue a prescription - which we can deliver directly to your door within 24 hours.
Getting started with GP online services is incredibly easy - but what are the main benefits?
GP online services are convenient
Trying to organise a GP appointment around commitments such as work can be difficult, and can often mean you have to wait longer to see someone. If you choose to speak to a GP online, you'll be in control of the date, time and length of the appointment. You also have the option to choose whether you see a male or female GP, ensuring you're as relaxed as possible during the consultation.
They're quicker to access
Waiting times for GP appointments can be lengthy, but if you opt to speak to a GP online, there's usually little or no waiting at all. At Hapi, we're pleased to be able to offer same-day appointments at a time of your choice in most circumstances - meaning more convenience and less worry for you.
You can opt for prescription delivery
Not only are digital healthcare appointments easier to book and attend, they can also make getting any necessary medication simpler as well. Once your GP or medical professional has issued your prescription, we'll make sure it's delivered to you at home or work, the very next day. No telephoning pharmacies, no waiting in queues - just a simple, straightforward process.